Whether you've dreamed of starting your own company or want to help businesses grow as a financial advisor, market research analyst or marketing manager, a business degree can give you the foundation to see yourself succeed in the business world.
In today's competitive economy, when many employees are entering the workforce with bachelor's degrees and master's degrees, a business degree or international business degree can help you stand out and prepare you for many career opportunities.
Is Business a Good Major?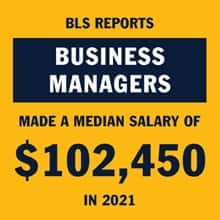 Employers are hungry for job candidates with business degrees. The National Center for Education Statistics reports that of the 2 million bachelor's degrees conferred between the years 2019–20, degrees in business were the most popular category, accounting for 387,900 degrees.
Is a Business Degree Worth It?
Business management salary is strong. In 2021, the median wage for management occupations was $102,450 and the field is expected to grow by 8% through 2031, according to the U.S. Bureau of Labor Statistics (BLS).
What Kind of Jobs Can You Get With a Business Management Degree?
Want to start your own career in business? Learn more about what you can do with a business degree and how to gain the knowledge and skills you need to succeed in one of these in-demand jobs:
Accountant – With a business degree in accounting, you can find work in a wide variety of industries, as an in-house accountant managing a single company's finances, working for the government or even working as a private accountant with your own firm. Accountants examine financial statements, review accounting systems for efficiency, ensure companies are complying with laws and regulations and suggest ways to reduce costs and boost revenue.
Accountants made a median salary of $77,250 in 2021 and the field is expected to grow by 6% through 2031, according to BLS.
Financial Analyst – As a financial analyst, you can help companies and organizations make smart business and investment decisions by evaluating financial data and studying economic trends. As the economy continues to grow and global business opportunities increase, financial analysts will be needed to evaluate investment possibilities when businesses are established or expanded.
Employment of financial analysts is projected to grow 9% through 2031, faster than the national average and financial analysts earned a median salary of $95,570 in 2021, according to BLS.
Human Resources Manager – Human resource managers are an important connection between an organization's management and its employees. As a human resource manager, you'll oversee employee recruitment, hiring and engagement, oversee employee benefits programs and mediate staff conflicts.
Changing employment laws and regulations, as well as the growing use of technology in employee benefits management, will boost demand for experienced human resource managers. In 2021, HR managers earned a median salary of $126,230 and the field is expected to grow by 7% through 2031, according to BLS.
Market Research Analyst – Market research analysts work to determine a company's position in the marketplace by researching competitors, product demand and pricing. As a market research analyst, you can forecast marketing and sales trends and collect data to measure the effectiveness of business strategies. As businesses increasingly use consumer behavior data to increase sales and cut costs, market research analysts will be in high demand.
Market research analysts made a median salary of $63,920 in 2021 and the field is expected to grow by 19% through 2031, according to BLS.
Marketing Manager – As a marketing manager you can help build a company's brand, boost sales and have a direct hand in helping the company grow. Marketing managers plan promotional campaigns, create advertisements and negotiate advertising contracts, and oversee the day-to-day management of social media, email marketing and website content. As new digital marketing opportunities become available and many businesses seek to expand into the global marketplace, marketing managers will continue to be in demand.
Marketing managers made a median salary of $133,380 in 2021 and the field is expected to grow by 10% through 2031, according to BLS.
Sales Manager – As a sales manager for a retail or business-to-business organization, you'll direct the distribution of goods and services, set sales goals and analyze statistics to manage inventory and identify new markets. Sales managers are also responsible for hiring and training new sales staff.
Effective sales teams are critical to a company's bottom line, the field is expected to grow by 5% through 2031 and the median salary for the position was $127,490 in 2021, according to BLS.
What Can You Do With an International Business Management Degree?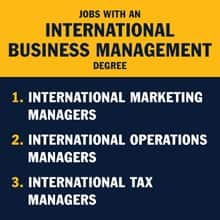 As technology continues to advance and more business moves online, it is easier than ever for companies to expand their products and services to the global market. With a degree in international business, you'll be on track to join a fast-growing sector of the business world.
In an international business degree program, you'll explore international market analysis, global business development, international finance and ethical standards for international operations. International business jobs, such as those listed below, are in high demand and expected to grow as companies continue to expand into global markets.
International Marketing Managers – International marketing managers help drive a business' international growth and build a company's brand around the world. International marketing managers earn a median salary of $88,156, according to Payscale data.
International Operations Managers – International operations managers are responsible for coordinating facilities operations in multiple countries and work with other high-level executives to plan long-term strategies for sales and growth. International operations managers earn a median salary of $75,460, according to Payscale.
International Tax Managers – International tax managers are important members of a global business' financial team, ensuring that a business is in compliance with international tax law. Tax managers prepare and file tax forms and analyze tax regulations to maximize corporate profits. International tax managers earn a median salary of $117,222, according to Payscale.
How to Get Started in a Business Career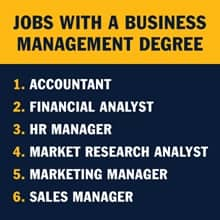 If you want to get started in a rewarding career in business, enrolling in a business degree or international business degree program is an important first step. While there are many job opportunities available for workers with a bachelor's degree in business, completing a master's degree in business can help you earn top management positions.
In a business degree program, you'll explore principles such as management, marketing and data analysis, and gain key skills like communication, problem-solving, collaboration and research. You'll also explore international business topics and explore the ethical, cultural and regulatory factors that impact businesses expanding to global markets.
Selecting a specialization for your studies in an area of particular interest can help hone your skills even further. Choose from more than a dozen concentrations including a:
With a business bachelor's degree or master's degree, you'll be well-prepared to enter the business world and find a rewarding career helping companies and organizations grow.
A degree can change your life. Find the SNHU business program that can best help you meet your goals.
Danielle Gagnon is a freelance writer focused on higher education. Connect with her on LinkedIn.
link