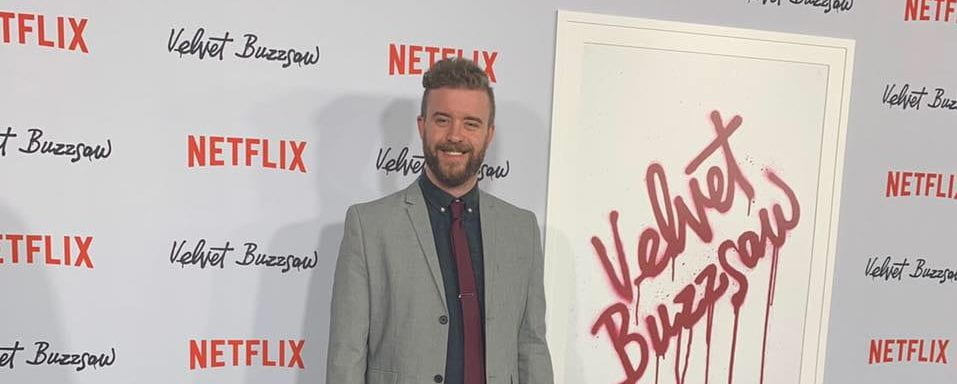 The letterboard sign on UW-Green Bay alum Ben Kvalo's desk asks a tongue-in-cheek question: "Wait, Netflix has games?"
And the answer is: It sure does! That is partially because of Kvalo, who worked tirelessly to grow the Netflix gaming division from the ground up into a global platform, much like the streaming service did for movies.
His success at Netflix has recently allowed him to begin his newest adventure: founder and CEO of a game publishing business located right here in the Midwest. In this new role, Kvalo is looking to create more opportunities for gamers in the region, diversify the gaming industry and support overlooked game developers.
But before Kvalo made a name for himself in the gaming industry, he had to start where so many of us did: working his way through his senior year of high school trying to determine where he'd go to college after graduation. Spoiler alert: Kvalo called UW-Green Bay home for four years. His journey to where he is today began because of on-campus experiences that gave him the tools to build the life he envisioned from the ground up.
Finding His Fit
Five generations of Kvalo's family attended the same university, but the Portage, Wisconsin, native wanted to attend a school that more precisely fit his needs and interests. While very involved in sports and activities, he lacked confidence and wasn't quite sure of his voice. Not wanting to be another face in the crowd, Kvalo started looking at universities that could use his potential and empower him to become his best self.
Kvalo immediately fell in love with the beauty of the UW-Green Bay campus during his tour, but it was when he heard from his tour guide about how the school approached higher education that he knew it was the place for him.
"I'm a doer and need to get my hands on things," Kvalo says. "I like to learn by life, so the traditional way a lot of universities approach education wouldn't have worked for me."
He saw the opportunity to be more hands-on and interactive with his education at UW-Green Bay, which bolstered his confidence that he'd receive an education that truly fit him. The more intimate campus, diverse extracurricular opportunities and ability to more easily connect with professors and peers made him feel like he could start the journey of self-discovery to become who he was meant to be.
Strengthening His Voice
Once at school, Kvalo found no shortage of spaces to get involved and grow. He briefly worked as one of the men's basketball team managers before pivoting to a new opportunity: helping to launch and grow WGBX, a student-run radio station. This opportunity taught him how to collaborate with different teams and build something from the ground up. As the general manager for 3 ½ years, he wore a lot of hats and found opportunities to strengthen his weaknesses. During the summer, he was a light and sound technician at the University Union. This, too, was another opportunity to roll up his sleeves, learn on the go and develop strong interpersonal skills.
Ben helped found WGBX student-run radio at UW-Green Bay
As if that wasn't enough to keep him busy, he was also a campus tour guide—but this opportunity didn't come quite as easily. He was turned down twice, but that only fueled him to keep practicing his communication skills to eventually land the gig. Once he found his voice—both internally and externally—he brought a genuine realism to his tours to help prospective students who were considering UW-Green Bay.
Turning His Attention to the Future
During his senior year, the business administration major and communications minor started thinking about life post-graduation. One of his professors, Lucy Arendt, said to him, "You can do what you're dreaming in your head."
Those words resonated strongly with Kvalo. As a self-proclaimed gamer growing up, Kvalo routinely hosted video game gatherings with friends, resulting in a lot of late nights trying to beat bosses and save mythical worlds. Video games became a huge aspect of who he is from the minute he got his first Nintendo system, and with the encouragement of his professor, he began to work out a way to parlay that passion into a profession.
The first chance arose during his mergers and acquisitions capstone course. Kvalo and his group decided to use a video game company as the basis for the simulated acquisition project. Kvalo's role in the scenario was acting on behalf of management, so he took the lead and formulated a business plan for how it would play out. A professor's wise words coupled with a successful (faux) acquisition was an encouraging and catalyzing moment for him. It made him realize that the business side of video games was a viable career option.
Ben poses with Larry Hyrb (aka Major Nelson), the face of Xbox Live and pioneer in videogame storytelling and communications
But the economy had other plans for this 2010 graduate. Jobs were still hard to come by as the nation was slowly recovering from The Great Recession. To help pay the bills, Kvalo fell back into an industry he had spent a lot of time in as an undergrad: radio. For nine months he worked selling airtime and facilitating various components related to radio broadcasting, but his heart remained in the gaming industry. Reevaluating what he wanted to do in life, he revised his LinkedIn profile to include an emphasis in video games. Those copy adjustments caught the attention of a recruiter for 2K, a video game publisher located outside San Francisco. After several conversations and interviews, Kvalo landed the job and headed west.
Giving His Career a One-Up
Kvalo spent nearly six successful years at 2K. He then made the move to Blizzard, a video game publisher known for its annual BlizzCon gaming convention. After a year at Blizzard, Kvalo made the jump to Netflix in 2018, where he started as a campaign operations manager. Pausing on video games, Kvalo turned his attention to film, where his focus was the planning and execution of tentpole campaigns for Netflix original films. His first big Hollywood moment was the successful launch of Bird Box, starring Sandra Bullock.
Ben smiling for cameras at the 2019 Netflix movie premiere of "Velvet Buzzsaw"
After several more film releases, Netflix approached Kvalo with an opportunity in its newly created games publishing division because of his prior experience in the gaming industry. He knew this was the right next step and became the lead project manager for launch operations in the gaming division.
"My job [was] to help Netflix become a top-tier gaming platform," Kvalo said. "I love the challenge of starting at the bottom and building up, so this is a perfect opportunity to create something that disrupts the industry."
Clearly, what Kvalo is doing is worked: In its first year, the Netflix gaming platform published 48 games—an extraordinary accomplishment considering a small fraction of that is the average a gaming publisher typically launches annually.
Cherishing His Wisco Roots
Kvalo still has deep ties to his Wisconsin roots, which played an important role on how he's trying to change the industry next. Relocating to the Midwest to launch his new game publishing company, Ben added: "There's a unique opportunity to tap into the Midwest as an emerging market with unlimited potential. Not only is Chicago the third largest city in America, but there are incredible developer hubs in Madison [Wisconsin], Columbus [Ohio], Minneapolis [Minnesota], Ann Arbor [Michigan], and more. At the moment, those developers lack funding and support to elevate their unique and incredible games to a new level. We aim to change that by providing funding, marketing and support."
Plus, his family still calls Portage home, he cheers for his hometown favorites, like the Milwaukee Bucks and the Green Bay Packers, and he has collaborated with Titletown Tech, a Wisconsin-based venture capital firm that invests in bold entrepreneurs solving meaningful problems. He's also giving back to UW-Green Bay by serving as a member of the alumni board, speaking virtually with classes, mentoring students and even helping to create the Esports Lounge in University Union. In 2016, the university celebrated his support of Phoenix success with a distinguished Alumni Award.
The foundational skills he fostered as a Phoenix gave him the confidence to pursue his interests, hone his skills and come into his own. It's safe to say it's resulted in the launch and development of some pretty big things.
Learn more about how a business administration degree is a flexible, innovative option that will help propel you on your path forward.
---
Link to original story: https://news.uwgb.edu/featured/09/01/ben-kvalo-10-uses-his-business-administration-degree-to-bolster-the-business-side-of-video-games/

link