St, Michael Catholic Secondary School students Marc Paul Campantero, Valentine Adeseiye and Emerson Eickmeier are celebrating their recent success at the DECA provincial business competition in Toronto Feb. 12-14.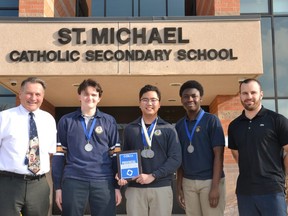 Article content
Three Stratford high school students are celebrating their recent successes at a prestigious provincial business competition in Toronto earlier this month.
Article content
Along with 12 other St. Michael Catholic secondary school DECA club members,  Emerson Eickmeier, Grade 10, Valentine Adeseiye, Grade 11, and Marc Paul Campantero, Grade 12, excelled at the three-day provincial competition at the Toronto Sheraton Centre.
Vying against more than 5,700 of Ontario's best competitors, the three students each brought home at least one medal in their chosen competitive categories. Eickmeier finished in the top 20 in the business core category, Adeseiye finished top 20 in the business finance category and Campantero took home no fewer than four medals after finishing among the top three in the accounting applications category.
"I felt really happy about (how I did)," Campantero said. "I tried my best and I just hoped for the best throughout. Once you make top three, you qualify to go to (the International Career Development Conference), which is the international competition, and this year it's going to be held in Orlando, Fla., (in April). So I'm just going to study as much as I can (for that)."
Article content
Steve Eliasziw, a St. Mike's business teacher and the DECA club staff adviser, said Campantero earned stellar marks throughout the Feb. 12 to Feb. 14 competition. On the competition's exam, which featured 100 difficult multiple choice questions in 70 minutes, Campantero was one of the top finishers.
"It's not like in my accounting class where 10 students out of 40 get 90 per cent or better," Eliasziw said. "If you get over 70 per cent, you're doing really well. Nobody really gets 90 per cent.
"He got 87 per cent on his exam. That is humongous."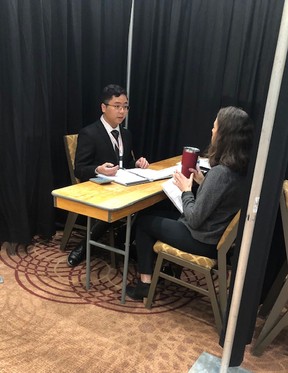 The 15 St. Mike's students – the only ones in Stratford and across Huron-Perth to compete – earned their berths in the provincial championship after previously qualifying from among roughly 11,500 competitors who participated in regionals last October. All DECA provincials participants were required to write a timed, multiple-choice exam ahead of the in-person competition to assess their knowledge in their chosen competitive field: finance, marketing, business management, hospitality and tourism, business administration, or entrepreneurship. Eickmeier, Adeseiye and Campantero each competed in different categories within the finance field.
Article content
"Then we (went to Toronto) and we did role plays, where they give you (a case study) you need to solve and they give you 10 minutes to write down any thoughts," said Eickmeier, a first-time competitor. "They give you performance indicators to kind of guide you to what your answer should look like and then you go from there … and they add up your (score) out of 300."
To prepare for the competitions, the club members at St. Mike's met weekly to study their chosen categories, prepare for the written exams and practise role-play scenarios from past competitions.
"It was my first time (competing)," Adeseiye said. "For me, it was a lot of fun. We got to hang out (with our fellow competitors) a lot and we also had a lot of free time in downtown Toronto. With the competition itself, it was really brief – maybe 20 minutes. They call you down for your case study specifically, you compete, and then you just go back. My second (role play case study) was four hours after my first, so I just had down time after that. … The competition was (great for) networking with other students. I spent a bit of time exploring around and just meeting strangers from other schools."
DECA, which stands for Demonstrating Excellence, Celebrating Achievement, is an organization of competitive high school and post-secondary business clubs first founded as the Distributive Education Clubs of America in the U.S. 70 years ago. There are 13,000 DECA members in Ontario and more than 215,000 members worldwide.
link