The deal will give RBC a No. 3 market position in the U.K. and Ireland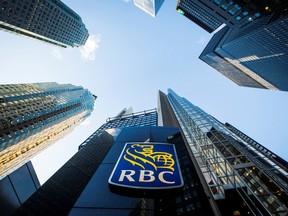 Article content
The Royal Bank of Canada is acquiring U.K.-based Brewin Dolphin Holdings Plc. in a $2.6 billion all-cash deal that will expand its wealth management business as well as its footprint across the pond, the bank announced Thursday.
Article content
"(RBC) had a very limited footprint in the U.K. prior to this transaction, so this pulls them up to the No. 3 market position in the U.K. and Ireland," Canaccord Genuity analyst Scott Chan told the Financial Post. "Because it was very limited, RBC management has talked about using excess capital to support growth in wealth management in Europe, and in the U.S., and to a certain extent in Canada."
Chan added that it was important for RBC's strategy to gain scale in other markets and through their high-net worth wealth management business. Brewin Dolphin shareholders would also be happy with the 62 per cent premium to the company's last closing price, Chan said.
In a press release, RBC said it would be paying 515 pence per share in cash for the company following shareholder and regulatory approvals.
Article content
The U.K. is a key growth market for RBC

Doug Guzman
"The U.K. is a key growth market for RBC, and Brewin Dolphin provides us with an exceptional platform to significantly transform our wealth management business in the region," Doug Guzman, RBC Wealth Management's group head, said in a statement. "By combining two highly complementary businesses, we will increase the depth and breadth of our services and position the combined business as a premier integrated wealth management provider to private and institutional clients."
RBC's wealth management business saw earning grow 22 per cent over the course of 2021, largely due to higher average client fees stemming from booming equity markets. The company's net income from the segment was $558 million in the quarter ending October 31, 2021.
Article content
Earlier this year, RBC chief executive officer Dave McKay said the bank would be seeking new opportunities abroad to strengthen its wealth management side. McKay said the company was looking into deals in "wealth distribution in Europe to enhance our European and global wealth franchise," as well as in the U.S. in remarks made during the RBC Capital Markets Canadian Bank CEO conference in January.
Brewin Dolphin has a network of more than 30 offices across the U.K. and Ireland with £59 billion ($97 million) in assets under management as of late December. RBC's total holdings in the region will grow to £64 billion ($105 billion) in assets under management and £545 million ($900 million) in combined annual revenue based on 2021 earnings, according to Bloomberg reporting.
Article content
Chan told the Financial Post that another part of what makes Brewin Dolphin an attractive target is the technology investments the company has been making recently, something RBC has been pursuing as well. Chan said he sees the potential for synergies in this space.
National Bank of Canada analyst Gabriel Dechaine said in a note to clients that the deal would have a modest capital impact, leaving the bank with significant excess reserves.
Scotiabank boosts buyback by about $1.1 billion as profit climbs

CIBC tackles developer shortage with hackathons, skill training

Open banking presents 'an opportunity, not a problem' for credit unions, Meridian CEO says
"Overall, Brewin Dolphin represents a modestly sized acquisition that significantly scales up (RBC's) U.K. and Ireland Wealth business," Dechaine wrote. "Although a $2.6 billion deal sounds large, it is only 18 per cent of (RBC)'s current excess capital position."
Article content
RBC follows Toronto-Dominion Bank and the Bank of Montreal in deploying the significant capital built up over the course of the pandemic to expand into other markets through mergers and acquisitions.
RBC's recent acquisition is not quite as large as TD's $13-billion deal to buy Memphis, Tennessee-based First Horizon Corp. or BMO's US$16.3 billion Bank of the West deal.
Chan told the Post that it is nevertheless a step forward in its business expansion that puts RBC in a strong position to pull of another all-cash transaction in the wealth management space.
• Email: [email protected] | Twitter: StephHughes95

link