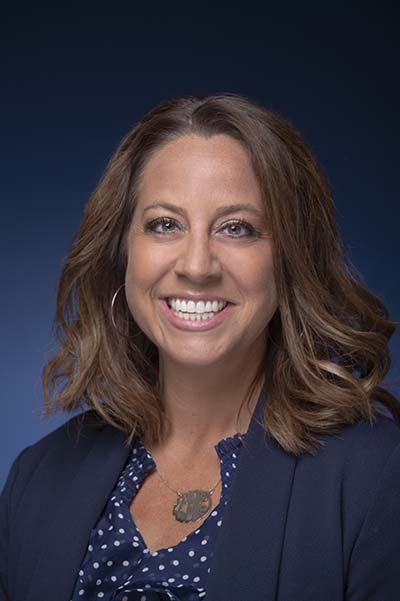 Trine University has promoted Gretchen Miller to the new role of senior vice president
and chief operating officer, effective Aug. 1.
Miller, who has been with the university since 2011, most recently served the university
as vice president for administration and chief of staff. She was named to that position
in 2019.
"Gretchen has played a key role in administration as Trine University has experienced
a period of unprecedented growth and expansion," said John Shannon, Ph.D., Trine University
president. "She has managed increasing responsibilities with excellence and with an
unwavering commitment to this university and the students we serve. I look forward
to seeing all she will accomplish in this new position."
Management and planning
In her new role, Miller will lead or assist in the management of day-to-day operations
at Trine University. She will continue her participation with senior officials in
institutional planning, including property acquisition and large capital construction
efforts on the Angola campus. She also will continue to play a role in policy development
and problem resolution.
She will serve as Dr. Shannon's primary liaison with the university, government and/or
community leadership. She also will continue to serve as chief aide and liaison to
the University Board of Trustees.
She will serve as the university's chief development officer, overseeing and leading
the Office of University Advancement. In addition, she will continue her oversight
of Trine Innovation 1, which includes Career Services and the Trine Center for Technical
Training, and leadership of the university's camps, conferences and events team, including
the T. Furth Center for Performing Arts.
"I am honored by this opportunity and look forward to working in this new role with
Dr. Shannon, the Cabinet and the university's trustees to build on the successes we
have enjoyed at Trine," she said. "Our university continues to be blessed with outstanding
leadership, and I'm proud to be part of the positive impact we make as we equip our
graduates to succeed, lead and serve."
Extensive higher education experience
A Lansing, Michigan, native, Miller joined Trine University as director of alumni
relations and events before becoming chief of staff and assistant to the president
in 2012.
She has served at Trine during a time of historic growth in enrollment and facilities.
The university surpassed 9,500 students this past spring and is preparing to open
an expansion to Best Hall this month, with construction well underway on the Dr. Earl
and Melanie Brooks College of Health Professions in Fort Wayne.
The new buildings join other recent additions to Trine's Angola campus such as the
MTI Center, Thunder Ice Arena, T. Furth Center for Performing Arts, Bock Center for
Innovation and several residential facilities.
Prior to coming to Trine, Miller served in admissions, student activities, development
and project management roles for South Plains College in Levelland, Texas; the Lubbock
Economic Development Alliance in Lubbock, Texas; Hillsdale College in Hillsdale, Michigan;
and Junior Achievement of Northwestern Ohio, Inc.
She holds a Bachelor of Arts in marketing and business management from Hillsdale College
and a Master of Business Administration with an emphasis in marketing from Walden
University.
She serves as a board member for the YMCA of Steuben County and on the board of Education
One, Trine University's charter school authorizer. She also is a member of the Hillsdale
College Athletic Hall of Fame Selection Committee.
She previously served on the boards of the Community Humane Shelter of Steuben County,
Steuben County Economic Development Corporation and Young Professionals of Steuben
County.
She and her husband, Brooks Miller, who serves as head men's basketball coach at Trine,
live in Angola with their two children, Champ and Jordan, and their Labrador retriever,
Rambo.

link