The sector feels 'left at the altar' after the UCP failed to reinstate the Digital Media Tax Credit in the provincial budget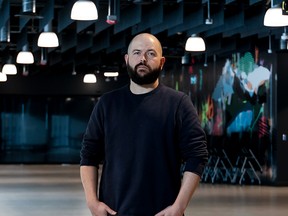 Article content
Video game and interactive digital media developers are frustrated with their budget day snub.
Article content
This is despite the inclusion of the reinstatement of the Digital Media Tax Credit in Premier Danielle Smith's platform and in Technology and Innovation Minister Nate Glubish's mandate letter in November.
Article content
On Tuesday, the promise of the last several months took a big hit and Scott Nye, chairman of Digital Alberta, said the local sector is at risk of falling further behind other provinces like B.C., Quebec and Ontario.
Article content
"We've now, as an industry, gone three and a half years without any support," he said. "We've been patient. We've been sort of left at the altar in the past by this government. And now this is, quite honestly, reason for us to continue to grow jobs outside of the province."
The impact of the snub was immediate for Nye, who is the COO at Inflexion Games in Edmonton. The studio started up as a result of the introduction of the tax credit by the previous government in 2018, as a wholly-Edmonton based company. When the tax credit was cancelled by former premier Jason Kenney in 2019 they began to spread their workforce out to other jurisdictions.
Article content
With the belief the tax credit was coming back, the industry prepared to re-invest in the provincial capital. Those plans died on Monday when they were given a heads up the tax credit was not going to be part of the budget.
Nye said there are 15,000 people working in the IDM sector in Montreal, and only 1,500 in Alberta. This latest setback will push that disparity even further.
Article content
It is not just video game development — a $200-billion USD global sector — that is being put on the back burner. This is critical in the development of virtual reality and interactive technology that has applications in many sectors, including health care, agriculture, energy, mining and others.
Nick Facey, vice-chairman of Digital Alberta as well as global program manager for Unity Accelerate Solutions in Calgary, said it is about the overall ecosystem and planting that flag as a hub.
Article content
Beyond a game: Calgary looks to score millions with esports tournaments

Alberta government looks at reviving tax credit for video game developers

Video game developer 'disappointed' province axed digital media tax credit
"If you start to fall behind, you start to not be able to make up for it," he said adding it's important to put all the major skill sets from different levels of development, design and business management together in one location.
"That group of skill sets together is, in my opinion, where the magic happens. And locating them together, especially as we all return to work in offices, is going to be where these hubs really grow."
Further frustrating the sector is on the same day Alberta said "no," B.C. said "yes" with a five-year renewal of their Digital Media Tax Credit program.
Article content
Glubish said in an email interview that the province is doing their due diligence on the tax credit proposal to ensure it supports the industry "in a sustainable and responsible way." They are set to pursue an independent economic analysis of the proposal.
"I understand that members of this sector are disappointed that an incentive program is not launching today," he said in his email. "I remain committed to exploring policy options that are sensible, sustainable, and that balance the desires of the industry with the needs of all Albertans."
Finance Minister Travis Toews on Tuesday told the media that the tech sector is already in a strong position with record venture capital investment. He also said Alberta has the lowest corporate tax rate in Canada at eight per cent, which when combined with federal taxes is more competitive than 44 states south of the border.
Article content
Facey said the low corporate taxes do not make up for the impact of the tax credit program which in its previous iteration offered a 25 per cent refundable tax credit for labour costs.
Luke Azevedo, vice president of Creative Industries, Operations and Film Commissioner at Calgary Economic Development, is staying optimistic about the process. He fought for film tax credits for the last 16 years and has seen those efforts payoff in recently, including a $100 million over three year boost on Tuesday, bringing 2023-24's allotment to $125 million.
He said much has changed since 2018 when the original tax credit was installed, so it is not as simple as a straight carryover of old legislation.
However, it does create a challenge for the CED in attracting new business for the sector and growing the grassroots and talent development.
"The incentive is not the only thing, we've got to realize that," said Azevedo. "At this point in time, we just got to keep moving forward and ensuring that we're doing the best we can with what we have to attract and to grow and to develop."
Twitter: @JoshAldrich03
link