Modern-day Supply Chain Professionals are expected to be proficient in a variety of talents, including analytical skills, supply chain modeling, developing supply chain strategy, strategic sourcing, and using lean and six sigma tools in the supply chain, among others.
Unless you are willing to invest and commit years of your life to obtain a degree in each area, you need a faster, more effective solution to narrow the skills gap and stay relevant in a changing market.
With these popular online supply chain management courses, you can give your Supply Chain profession a much-needed boost.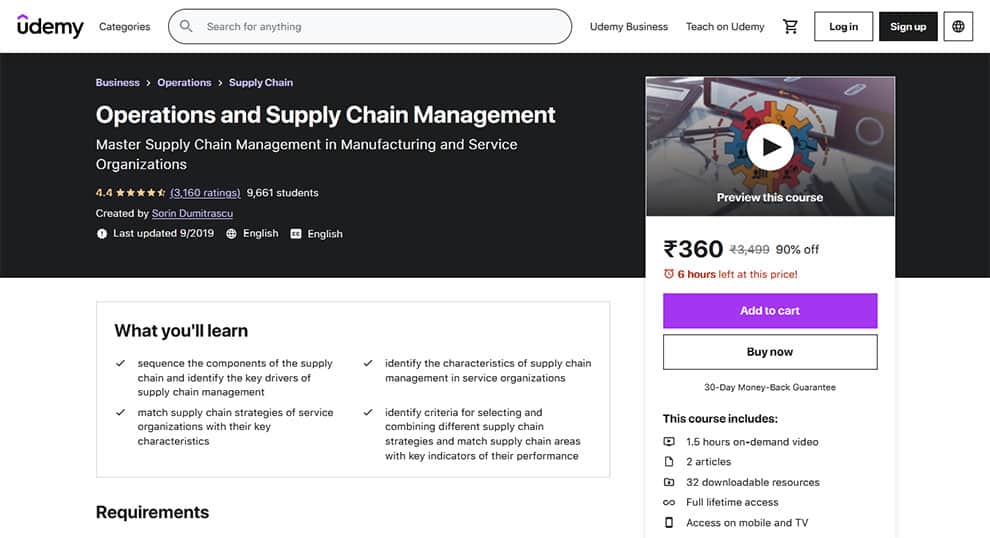 This online supply chain management certification is the greatest supply chain management certification available on Udemy. It will give you an overview of SCM in service and manufacturing organizations.
You will also learn about the characteristics and selection criteria of conventional supply chain strategies. The course has a large number of structured video lessons, manuals, quizzes, examples, exercises, and a small course project at the end.
The best aspect of this online supply chain training is that you will have lifetime access to the course content, which is viewable on mobile and TV.
You will also receive an accredited certificate at the end of the course. This course does not have any mandatory requirements.
Learning Objectives
Among the topics you will study from these online supply chain management courses are:
Organizing the supply chain components
Identifying the major supply chain management drivers
Identifying supply chain management features in service firms
Matching service firms' supply chain strategies to their core qualities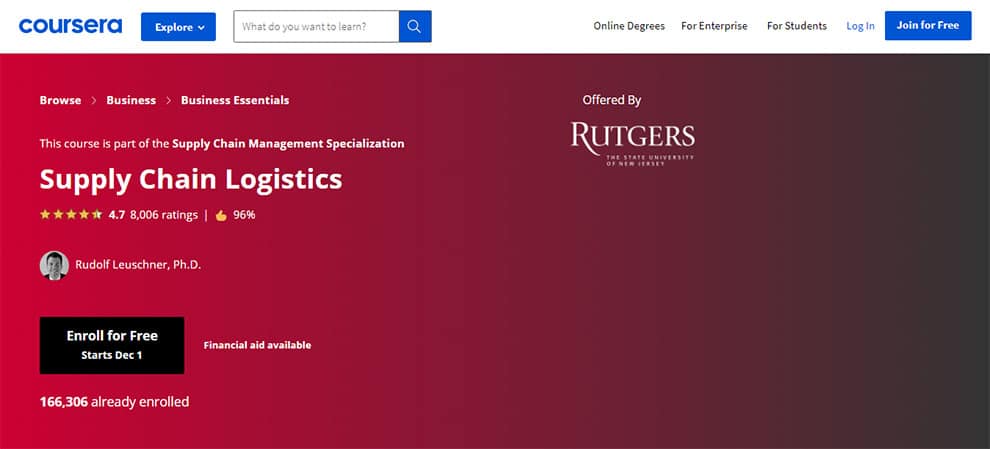 This online supply chain management certification is part of Coursera's supply chain management specialization. It is one of Rutgers University's top-rated online supply chain management courses. This introductory course will give you a better understanding of how supply chain logistics work.
This course will discuss in detail the three building components of logistics networks: transportation, warehousing, and inventory. You will comprehend the design and implementation of the warehouse facility.
It will also teach you how to build logistical networks, cut expenses, and provide excellent customer service. Although there are no prerequisites for this course, learners should have a basic awareness of business fundamentals. Upon completion of the course, you will receive a certificate.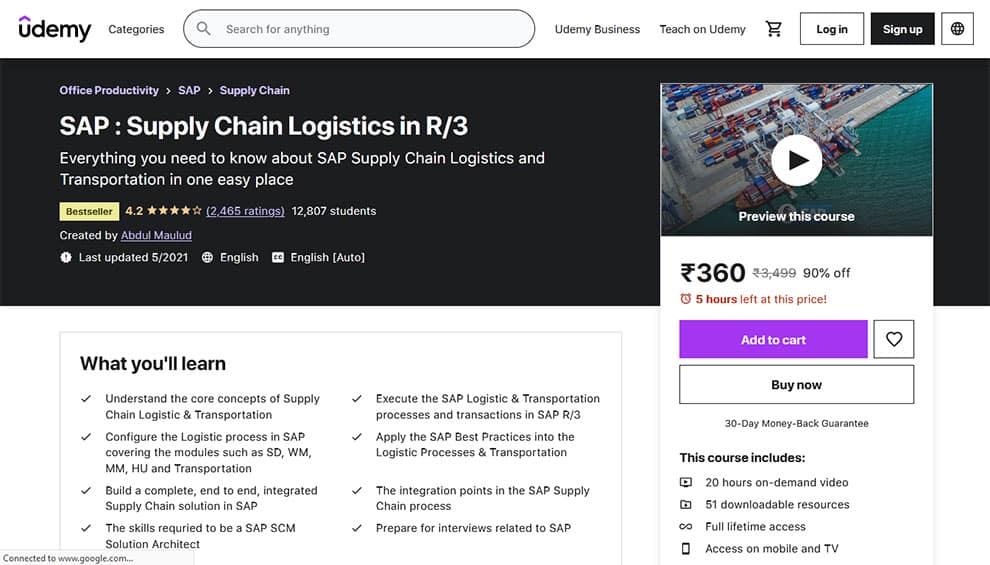 This course from Udemy is one of the top supply chain management classes available online. Unlike other courses that teach one subject, this one covers Sales and Distribution, Material Management, Purchasing, Handling Unit Management, and Warehouse Management and Shipping. The training covers SAP details as well as business themes from the perspectives of both business owners and users. It also discusses supply chain integration and context, how to run these processes in SAP and why we execute them in a specific method, and ultimately, SAP "Best Practice." Finally, you will receive a certificate of completion from Udemy.
Learning Objectives
This is one of the most rewarding supply chain courses available online, teaching you to:
The fundamental ideas behind supply chain logistics and transportation
SAP logistic process configuration
SAP logistic and transportation processes and transactions
SAP R/3
Implement SAP Best Practices in logistics and transportation.
In SAP, create a complete, integrated supply chain solution.
4. Online Supply Chain Management Courses (Alison)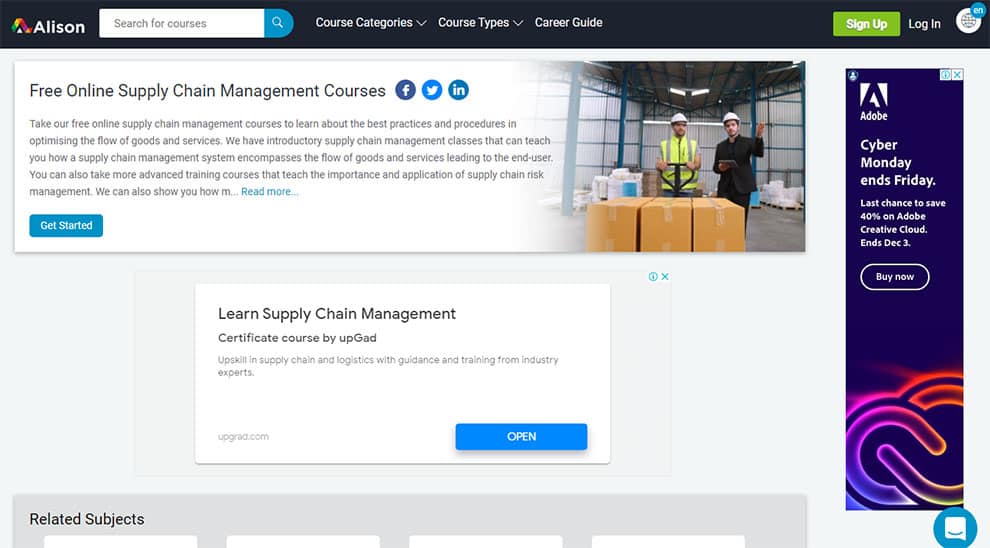 Alison's online supply chain management courses will teach you the best techniques and processes for improving the flow of goods and services. For beginners and seasoned professionals, the online education platform provides introductory and advanced supply chain courses. These courses will teach you how supply chain management encompasses the movement of goods and services to end users, as well as the significance and implementation of supply chain risk management.
Compiled below is a list of some of the greatest supply chain courses available on Alison:

Dr. DY Patil University's Bachelor of Business Administration in Logistics and Supply Chain program is a two-year undergraduate business education program. The online BBA Logistics and Supply Chain curriculum lasts three years and consists of six semesters. Dr. DY Patil University's online BBA in Logistics & Supply Chain includes a major stream and an elective stream chosen from marketing, business management, accounting, business information systems, or operations management. The curriculum allows students to study a second business subject in depth while also preparing them for popular job prospects such as Logistics Manager, Head of Supply, Logistic Trainee, and more.
Program Offerings
Live Classes that have been approved by the UGC
Lectures that have been recorded
Curriculum that is industry-relevant Learning Management System
Online academic calendar from the Digital Library
E-books and videos
Dynamic and application-focused evaluation system
System of student assistance
6. BBA Logistic [SASTRA University Thanjavur]

SASTRA University, in conjunction with the Logistics Skill Council, offers an online BBA degree in Logistics and Supply Chain Management. The online BBA Logistics course is intended to provide students with theoretical principles in Business Administration and Logistics. The program lasts three years and is divided into six semesters. Candidates who have completed their 10+2 from a recognized board are eligible to apply for the online BBA Logistics program at SASTRA University, Thanjavur. After successfully completing this online BBA program, students will have gained the conceptual and practical knowledge required to seek a career as a manager or entrepreneur in Business Administration and Logistics.
Program Options
Self-Study Materials
Personal contact campaign
Faculty with extensive experience
UGC Program Titled "Cost-Effective"
Certification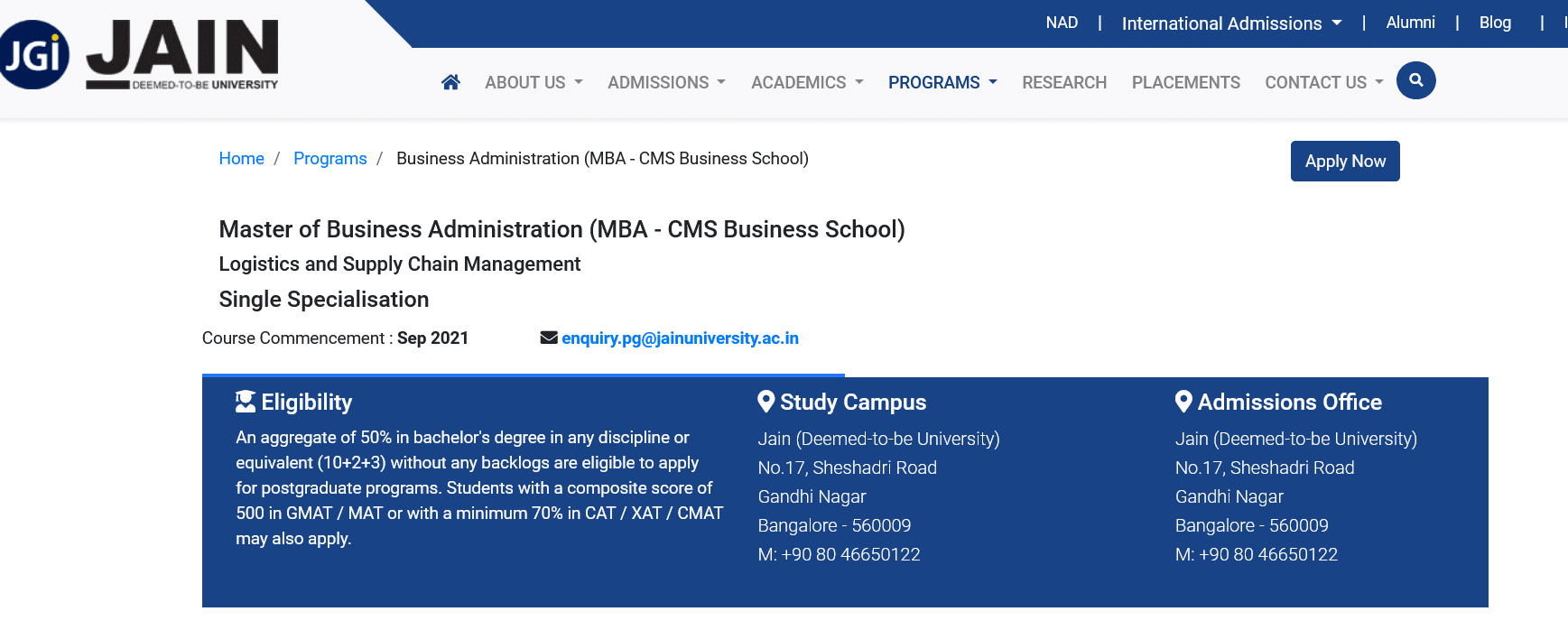 The Chartered Institute of Procurement & Supply (CIPS) has accredited Jain University's Master of Business Administration in logistics and supply chain management. The curriculum is taught entirely online and is intended for anyone who wants to learn how a supply chain works. The Jain University online MBA Logistics and Supply Chain Management program is designed to cultivate and build high levels of professional competence, competency, and integrity among all individuals involved in purchasing and supply chain management. Get more information about the course by reading on.
Criteria for Eligibility
To enroll in the online MBA Logistics and Supply Chain Management program, candidates must complete the qualifying requirements. Candidates must have an undergraduate degree in a relevant field from a UGC-accredited university, according to the university's eligibility requirements. They must have earned a bachelor's degree with honors.
A minimum of 50% overall (45% for SC/ST candidates). Candidates in the last semester of their bachelor's degree may also apply for the program.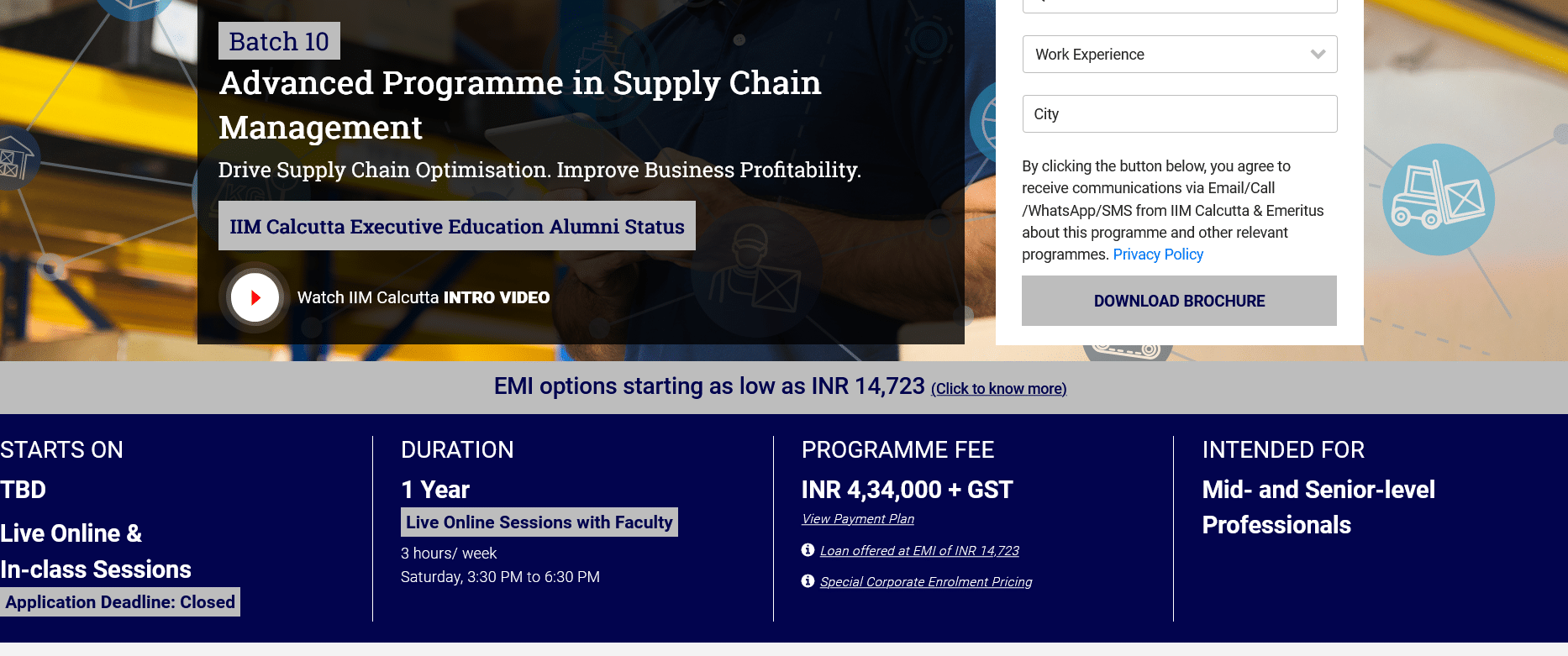 The Advanced Programme in Supply Chain Management (APSCM) is a one-year part-time program that combines cutting-edge analytical models with interactive classroom discussions to help you make better supply chain decisions. This program seeks to give critical skills to young managers in areas such as retailing, product management, e-commerce, sourcing, and procurement, allowing them to advance to senior positions in these industries.
The APSCM certificate course is a highly interactive and advanced program that will assist you in delivering company success by effectively coordinating suppliers and customers. The curriculum contains cross-functionality conversations that will enhance the participants' understanding.
Criteria for Eligibility
Participants must have at least three years of work experience.
Participants must have completed at least 50% of their Graduate/undergraduate degree.
Participants in the APSCM will be evaluated based on the entrance exam administered by Hughes and the application form submitted.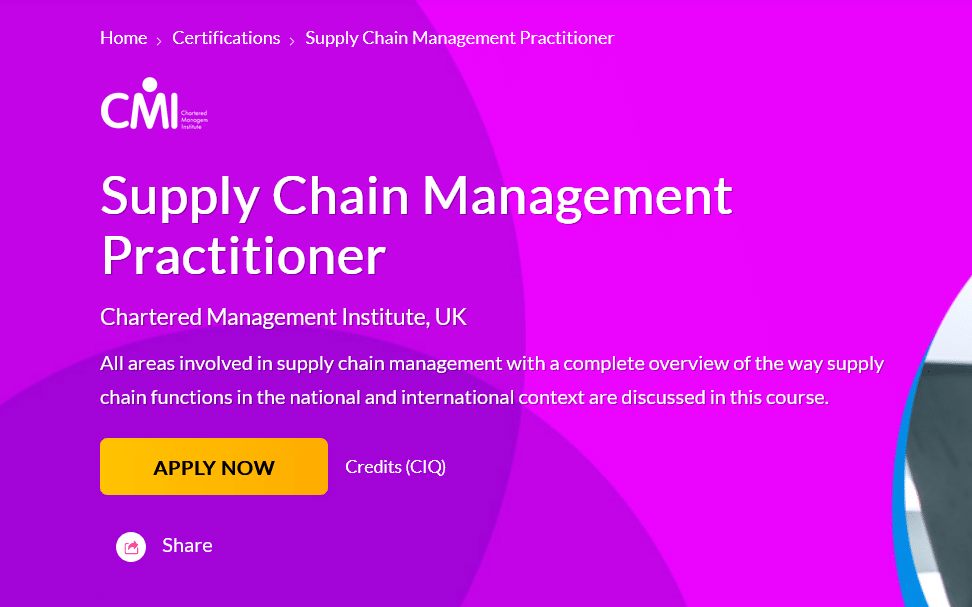 Uniathena, Athena Global Education's Supply Chain Management Practitioner session is a 2-6 month program established in collaboration with Cambridge International Qualifications, UK, to give students quality education online.
The Supply Chain Management Practitioner certification aids students by providing module-based learning. Applicants will also have access to online library resources to help make the course more complete and informative. Furthermore, enrollment for the course is free, and a seven-day free trial is available.
Criteria for Eligibility
Education
There is no formal admission requirement for the course. Therefore, students who want to apply for the Supply Chain Management Practitioner certification can do so immediately. Students who have a working knowledge of the English language and can speak it can apply for the online course.
Details on Certification Qualifications
Students must finish the course within the time frame specified in order to qualify for the Supply Chain Management Practitioner certification. Furthermore, the Supply Chain Management Practitioner online course certificate will be available only to students who deposit the certification fee.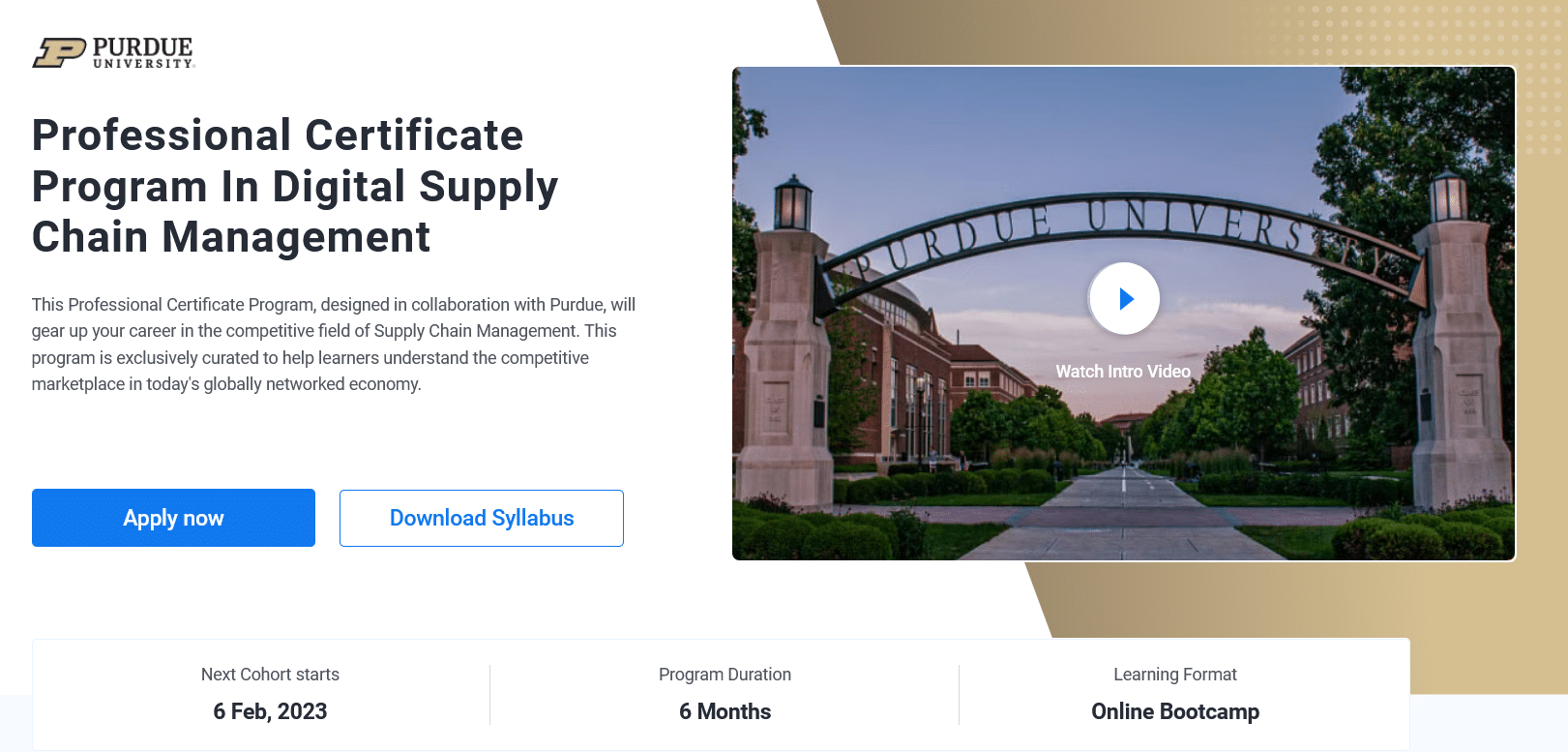 Purdue University's Professional Certificate Program in Digital Supply Chain Management, available through Simplilearn, is a 6-month online Bootcamp. This online certification course focuses on the most important aspects of developing a digitally enabled supply chain. This online Digital Supply Chain Management course teaches participants how to discover possibilities to establish a digital supply chain and disrupt the industry. They will also learn how to create a highly efficient, customer-centric supply chain powered by Innovation 4.0, as well as become acquainted with advancements such as the Internet of Things (IoT), analytics, big data, and sophisticated robots.
Students will learn how to efficiently and successfully manage themselves, their teams, and their businesses through significant transformative change by enrolling in this Digital Supply Chain Management certification course. Courses in the Post Graduate Program in Digital Supply Chain Management combine online self-paced videos, live virtual classes, and hands-on projects to help learners apply and expand their knowledge.
Advantages
Online Bootcamp for 6 months
5-10 hours of study per week 9 modules and electives
Final projects
Completion certificate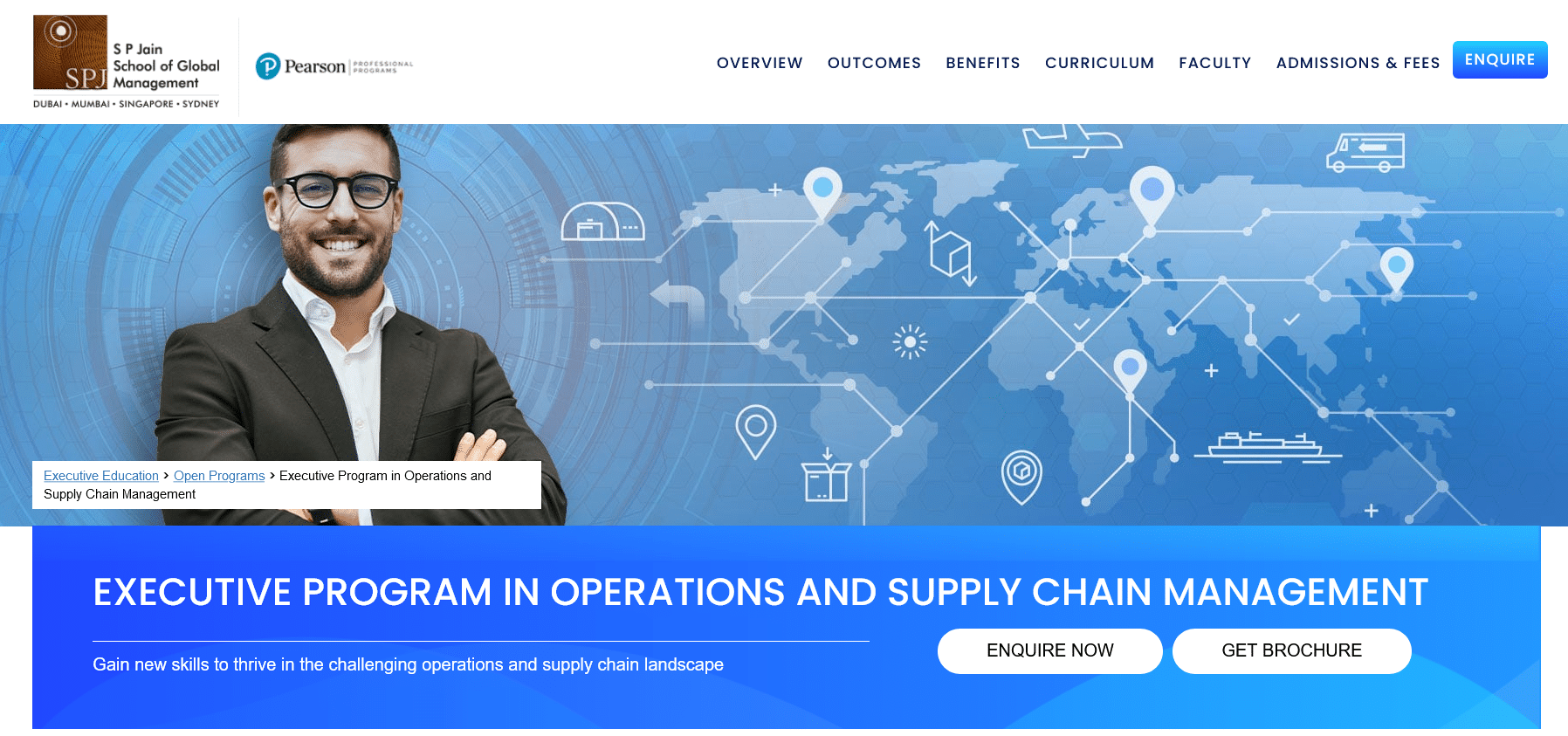 This six-month online Executive Program in Operations and Supply Management training program. This course syllabus was created and offered by the SP Jain School of Global Management using the Pearson platform. This online course is given by the institution's top subject matter specialists. Professor Procyon Mukherjee directs the program.
The visiting faculty includes Professor Rajiv Aserkar, head of the DAMCO International Graduate Program, Professor Nagendra Aswartha, Professor Alan Pilkington, Professor M. Hariharan, and Professor Boman Moradian.
Those working in supply chain management and operations must adapt and adjust their planning, tactics, and thinking to meet the sector's problems. Global catastrophes such as the COVID-19 pandemic shocked the world with unanticipated implications for supply chain operations. Despite this, several firms have prospered during these challenging times.
As a result of the digital revolution and globalization, the supply chain business has evolved into a complex profession needing strong logistical and administrative skills. The Supply Chain Management online course at UCT is designed to equip applicants with the managerial skills needed to pursue profitable new job opportunities in the supply chain industry.
Supply chain effectiveness is crucial to overall business performance; specialists with a strong understanding of logistics and supply chain management are valued by businesses of all sizes. The Supply Chain Management Training teaches students how to make informed decisions about inventory, procurement, storage, transportation management, and demand, as well as how to construct an effective distribution network.
The Supply Chain Management curriculum aids in acquiring the tools required to manage a company's entry into global markets.
Qualifications for Certification
Students must attend and complete all learning modules, as well as submit assignments and coursework, and participate in classroom fast assessment tasks such as tests, live polls, questionnaires, case studies, and so on in order to qualify for the Supply Chain Management certification. The grading process is mostly dependent on the student's online submission of a variety of assignments and presentations. Students must follow all of the regulations outlined in the coursebook and meet all of the prerequisites to be certified.
Conclusion
Supply Chain Management is a critical aspect of any business and has a far-reaching impact on its success. With the rise of e-commerce and globalization, it is more important than ever for individuals to understand the ins and outs of this field.
Online courses offer a flexible and convenient way to learn about Supply Chain Management, covering topics from logistics and procurement to risk management and sustainability.
Whether you're just starting out in your career or looking to take the next step, the 12 courses highlighted in this blog provide a comprehensive and accessible education in Supply Chain Management. Take your pick and start learning today!
link